How Masuzgo Mtonga bet small, won BIG and paid all his college fees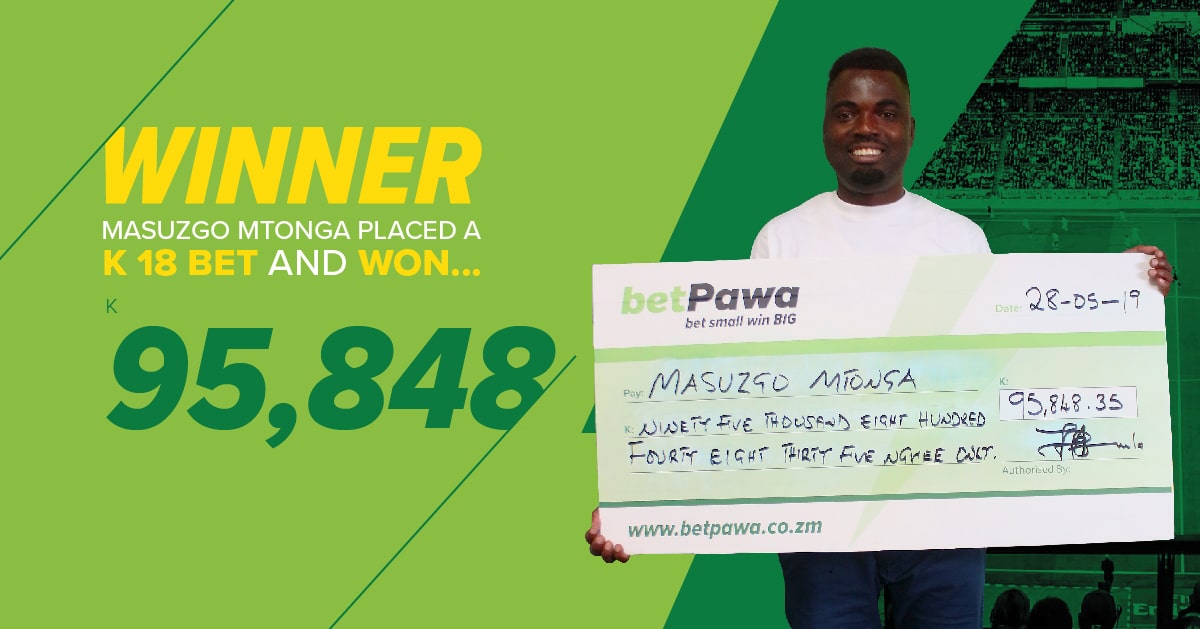 Ever heard of someone paying off all their college tuition fees with K18? That's what happened to 29-year-old Masuzgo Mtonga, who staked that amount on a bet with betPawa and got K95,848.35 back.
He explained: "Imagine just placing K18 on my betslip of 19 games, and I have more money than my problems. I even managed to withdraw K10,000 yesterday, which I paid for my college fees with straight away. The rest is going straight to my bank account."
The part-time agricultural studies student only joined betPawa three months earlier, and yet this wasn't even his first significant success.
He said: "I won for the first time in March. I won K3,000 and that motivated me to continue wanting to win BIG. I came to know betPawa through a friend on the Copperbelt, who told me about someone who placed a K1 bet and won K100,000. After that, I made up my mind to try my luck."
The Pawa of the win bonus
All 19 of Masuzgo's selections were in the 1X2 (match winner) market, picking 17 home teams and 16 sides whose odds were 1.90 or shorter.
His K18 bet had odds of 3549.94, meaning winnings of K63,898.90. However, as there were 19 legs, he got a 50% win bonus of K31,949.45 on top, making his total prize a huge K95,848.35. If he'd chosen one more club, he would've activated the 100% win bonus for 20 legs or more.
The Isoka resident couldn't contain his excitement. He said: "I feel so happy and I don't even care if my salary was delayed for six months. You know how tough things are now for everyone and to win that kind of money, it's a miracle. I'm not lucky, I'm blessed."
"Anyone can win"
An appreciative Masuzgo added: "I'm a winner with betPawa and anyone can win too. You people are the best. Even just the way you handle us clients, it's amazing. You really know how to explain and help us out.
"You are changing lives for most of us for real. These others make big promises but nothing happens. Thank you very much and God bless you all at betPawa!"
Want to win BIG like Masuzgo? Register with betPawa.
What is betPawa's no minimum stake? betPawa offers its customers with the genuine chance to bet small win BIG by allowing users to bet as little as K1
What is betPawa's win bonus? betPawa offers the best win bonus in Zambia, allowing users to win up to 100% extra. With 50% for 10 correct picks and 100% for 20 correct picks or more, meaning you get much more in return!
betPawa is the easiest way to bet online securely. Not only do they offer the best odds on the market but they provide their customers with the opportunity to bet small win BIG using a no minimum odds service of just K1, they also offer win bonuses to increase betting returns and they provide 24hr support to customers that need it.
Are you the next winner? Play now: www.betPawa.co.zm